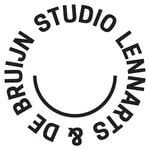 Lennarts & De Bruijn
Ultra-multidisciplinary Design Studio.
The Hague , Netherlands

2015 year founded
About
Studio Lennarts & De Bruijn (SL&DB) is an ultra-multidisciplinary creative studio, creating big, bold and beautiful things since 2015. Super nice text about who we are and what dazzling projects we undertake and make such as visual identities, campaigns, websites, art direction, books, animations, copywriting, videos, merchandise, exhibitions, illustrations and so on.