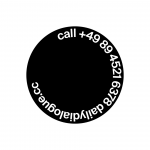 Daily Dialogue
Munich based creative consultancy: design, development, cultural production.
Munich , Germany

2015 year founded
About
Daily Dialogue is a creative consultancy working in design, development and cultural production. We are specialized in art direction, identities for brands and publications, and develop high performance digital experiences. Besides working on commissioned projects we initiate collaborative projects on an irregular basis. Our work approach aims to reach new levels for both, clients and the studio.
Daily Dialogue was established in 2015 by Maximilian Schachtner as a channel for creative outcome which developed itself to become a design and consulting studio. In 2018 Malin Schoenberg joined as a partner and the studio made an important step to establish a development department.