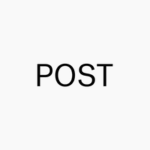 POST
Creating work that is thoughtful, responsible and relevant.
London , United Kingdom

2014 year founded
About
POST was founded in 2014 to help businesses grow and realise their vision. As we too have grown, our small team has developed into the well-refined consultancy it is today.
Our goal for the next five years is quite simple; to keep creating great work. But we know it's about more than just the final output, that's why we are continuing to integrate sustainability into our process, recognising our responsibility as a design studio to facilitate change, both socially and environmentally.