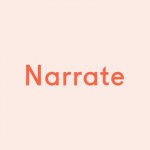 Narrate
London based design practice with a strong focus on brand identity.
London , United Kingdom

2015 year founded
About
Originality and simplicity are very important to us, with the belief that design should always inspire, surprise and excite. We achieve this through conceptual thinking, research and experimental practice, which ensures each design is intelligent, informed and bespoke.
We work with clients in the arts, cultural, charity, education and corporate sectors and enjoy working with people who are as passionate about their work as we are.
We design visual identities, campaigns, publications, marketing materials, websites and digital applications.