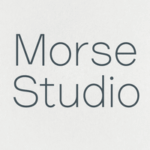 Morse Studio
Morse Studio is an award-winning creative consultancy.
London , United Kingdom

2008 year founded
About
We work with a broad range of clients at all stages of development. For companies at the outset of their journey, we build creative strategies and identities to help them establish a confident foothold in the marketplace. For established organisations, we provide creative direction, helping them connect with new audiences and maintain relevance.
Understanding context and clarifying objectives form the foundation of our creative process. We uncover the essence of a brand and articulate as an authentic narrative that informs all expressions. We execute with care and precision, and collaborate with a diverse network of creative partners, ensuring our work is as visually engaging as it is commercially impactful.