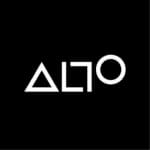 Alto
An independent graphic design studio.
About
AltoCrew is an independent graphic design studio based in Buenos Aires, co-founded and managed by Barbara and Sebastian. We help clients to communicate and grow their brands with a wise mind – weaving conceptual thinking with emotions and intuition. Our studio is driven by curiosity, imagination, and deeply root­ed pas­sion for experimentation.
We take advantage of our different cultural backgrounds and believe that diversity is the key to creativity. Our team works with visionary companies, organizations, and people that influence the world for good. We are always thrilled about having the opportunity to help and learn.