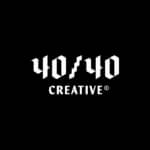 40/40 Creative
Australian branding and advertising agency.
About
40/40 Creative is a branding agency based in Gold Coast, Australia. We're a full-service studio creating design & strategy across multiple platforms for a variety of different clients. We major in brand identity, creative direction, campaign development and more.
In what we do, we don't see rules — only possibilities. Our creativity allows for endless opportunity when done right, which makes us exactly the type of creative influence you were looking for.